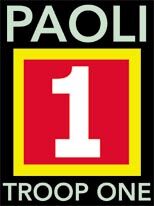 Woolipedia: The Paoli 1 wiki that anyone can edit
Woolipedia is an online encyclopedia for Paoli 1. You can search for topics in the search bar at the top of the page. Try searching for "Eagle" or "The Cabin". The navigation bar and links just below where it says Woolipedia facilitate easy navigation through this wiki.
The next troop meeting is Saturday April 18 at 3:00 pm, via Zoom. Class A Uniform required. Check your email for a Zoom invite.
Miss out on the events?  Get caught up on what happened at Horseshoe by clicking HERE.
Please see our Projects List for information on how you can contribute to Woolipedia.
"Erik? Hey, how's it going? We're at the Cabin... oh it's still ringing."
- Craig Van Yahres on the phone at Drum and Bugle Corps practice.

Horseshoe Scout Reservation (HSR) is Chester County Council's summer camp. The camp is located on the Pennsylvania/Maryland border (AKA the Mason-Dixon Line) along with its sister camp, Ware. Scout troops from all across the East Coast come to this premier camp run by Paoli 1's own council.
Camp Horseshoe's website can be found here.
Would You Like To Know More?...
_notoc_
_notoc_