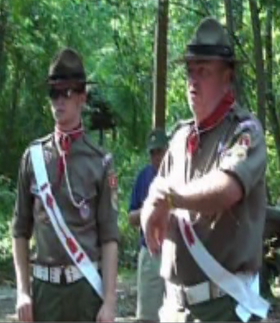 Bill Kiniry Jr. is the father of Bill Kiniry III and Michael Kiniry and a long time supporter of the Troop. When his boys were still in the Troop he attended numerous events ranging from River Trips to sleepouts. Since then his activities have scaled back slightly but he is still a feature many events like the Birthday, Family Dinner, Lion Turkey Dinner, Memorial Day, and Horseshoe as well as Troop Commitee Meetings, Paoli 1 Inc. Meetings, work days, OA Weekends, and other various events.
Mr. Kiniry has been the Scoutmaster in Camp for 12 years since taking over mid-week in 2001. Twelve years experience has led him to claim that he finally has the routine mastered. A large baggage train of accumulated gear and years of experience ensure that the Troop is prepared for anything and the boys are always kept busy and having fun. In camp he acts as an administrator, overseer, confidant, occasional disciplinarian, legal counsel, and friend.
The development of Lisle has been largely thanks to Dick Bensing but the project that started decades ago has been accelerated and reached completion under Bill Kiniry. The construction of two patrol bunkhouses, the new flag pole, new bulletin board, latrine renovation and expansion, fire circle renovation, new entryways, and bridge replacement have all taken place during his time as ASM. Most notable, however, is the construction of the Scoutmaster's Quarters. This structure was built thanks to Bill's determination, insistence, hard work, and funding. It has provided the perfect accommodations for the Scoutmasters and is a major improvement over the accommodations of previous years. This pavilion was followed by the Man Scout Platform, another structure which Bill pushed for in order to provide accommodations for adults in camp while also allowing the boys to run their own program without too much interference.
Through good times and bad, Mr. Kiniry has remained a constant figure in the Horseshoe experience. In 2007 the Troop presented him with a special adult version of the Silver Buckle.
Other Service to the Troop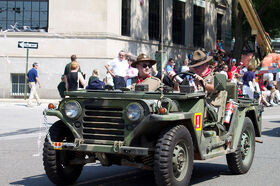 Mr. Kiniry's role as ASM for Horseshoe sees him perform a few duties in the "off season" which mostly includes talking to new parents and scouts about camp, getting the older scouts fired up, and attending Council meetings in preparation for camp. This however is not all he does in Paoli 1.
Bill Kiniry is the Troop's chief cannonier and has performed this duty for years at the Birthday both with the old and new cannons. Bill is an active member of the Troop Committee and Paoli 1 Inc. He has also been added to the Chester County Council Executive Board.
Bill is known for all of his "stuff". Over twelve years he has accumulated a large ammount of equipment which he brings down to camp each Summer notably including a full kitchen set-up which is the basis for Outpost in Lisle. The other items range from a giant inflatable soccer ball to deployable shade structures, foam water guns to power tools. Both at camp and back in Wayne Bill Kiniry has an expansive supply of tools which see use on nearly every single project and work day. He specially ordered and frequently flies a large Paoli 1 balloon at the Birthday and Memorial Day Parade. He is also the owner of a 1967 M151A1 refurbished Army Jeep which also makes appearances at those events.
He was the "guest" speaker for the 101st Birthday in 2012, and for all of his service to the Troop, a number of his Eagles presented him with an Ideal Scout Trophy.
Life Outside of Boy Scouts
Bill Kiniry grew up in the Philadelphia Suburban Area, attended Waldron Academy, St. Joseph's Preparatory School, and Villanova University (Classes of '64, '68, and '72 respectively). For a short time he worked as the Animal Warden for the Radnor Township Police Department and then became a Special Agent with the Pennsylvania Department of Justice Narcotics Control Strike Force. He was drafted into the Army and served 22.5 years, mostly in the reserves, and finally left the military at the rank of Captain. Bill also worked for a time in the JAG Corps, having left active duty to attend the University of Baltimore School of Law (Class of '76).
Bill has been a practicing attorney for over thirty-five years with experience in nearly all fields of the law. He is currently a partner in DLA Piper, the largest law firm in the world, where he is the Co-chair of the Product Liability practice and national counsel for a number of manufacturing companies.
He is married to Nancy Kiniry and has two sons, Bill and Michael, both Paoli 1 Eagle Scouts.