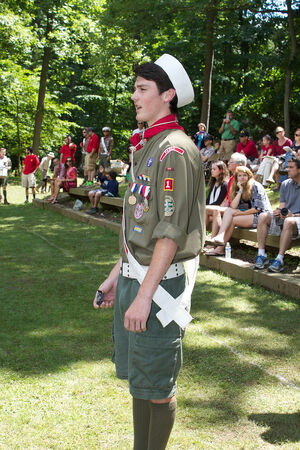 Sam Cepielik is the son of Rob Cepielik and older brother of Dan Cepielik. He joined Paoli 1 in 2005 and was placed into Color Patrol under John Carpenter. He enjoyed his first year at Horseshoe despite a stern talk he had with Mr. Kiniry (which would continue to happen at least once very year). At his first Birthday, Sam won Recruit of the Year. In 2008 he was moved to the reinstated Fox Patrol where he would later beAssistant Patrol Leader to Matthew Dong and then take leadership as Patrol Leader in 2010. 
Sam earned the rank of Eagle in 2012. His project consisted of painting grand stands, replacing rotten kick boards, paint horse corals, and renovating concession stands at the LuLu Shriners Temple in Plymouth Meeting, Pennsylvania.
He took over command of the troop in 2013 and led the troop with his large Staff Patrol. He lead an exceptional year for the books which included 4 Horseshoe marching victories, and helping 4 scouts attain the honored rank of Eagle.  
Sam passed his five trials as a Man Scout in 2014 at Horseshoe. He is revered by his peers and has been said to maybe be one of Paoli 1's best man scouts ever. His disabilities are that he has small leg calves and low amounts of "swag".  
Man Scout - 2014 (Passed his Trials during the 2014 Horseshoe week)
Senior Patrol Leader - 2013-2014
Patrol Leader of Fox Patrol - 2010-2011
Quarter Master of Grounds - 2011-2012
Sam is known for many of his famous quotes known by scouts and adults from his many years in Scouting.
"Don't cats suck" - during an AT hike in 20xx while everyone else was quietly enjoying the view
"Make this one for the books" - during the Change of Command Ceremony as the rising SPL in 2013. 
Community content is available under
CC-BY-SA
unless otherwise noted.