(Not to be confused with
Staff Patrol
.)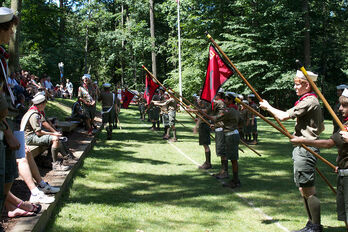 Each patrol has a set of wooden staffs marked on the top with their patrol colors (except Staff Patrol).
The most obvious use of the staffs is in drilling. Scouts learn simple drill commands and practice with their staffs. Practice leads to simple competitions and eventually a Birthday event as well as the separate 316th Infantry Award.
First Aid
Edit
Staffs are used primarily as the frame for makeshift structures in first aid but can also be used for crowd control purposes if the situation requires it. Thus, patrol staffs are often taken to the First Aid Meet and used in practices.
The tents used for the Full Field event at the birthday are formed from three patrol staffs. In past years the patrol staff was also used for the Knot Relay but has since been replaced by the patrol flag. Of course the staffs are also used during the Birthday's Drill Competition (the Patrol Leader uses the patrol flag and his two best men use patrol staffs).
Although not a part of their primary purpose, scouts have occasionally taken the staffs on trips and even to Horseshoe. They can be used to create structures and serve as the frame for a lashing apparatus.
In the past years scouts have also taken their patrol staff down to Horseshoe for Emergency Preparedness Merit Badge. They are used for mock crowd control and to form makeshift stretchers during the drill.
If need be, staffs are also used for marching practice when the formation needs help staying in line and performing columns. The scouts will hold the staff in their row to keep each other straight throughout the marching maneuver.