The most used piece of the uniform, the Paoli 1 T-Shirt is worn to all sorts of events both formal, informal, and even non-scouting.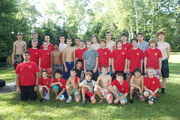 The T-Shirt is bright "Paoli 1 Red." the front of the shirt bears only a small Troop Logo on the left side over the wearer's heart. The reverse has the Troop's Coat-of-Arms so to speak. It is a vertical climbing pick with a circular coil of rope over-top of two diagonally crossed paddles. In the center of this criss-crossing of items is another Troop Logo. There is a white circle perimeter around these items with "Paoli Troop 1 BSA" written in yellow letters between the outer circle and the inner circle of the rope.
The T-Shirt is part of the Class A, Class B, and even Class C uniforms. Although not visible, it is worn under the uniform shirt of the Class A. It is the most prominent piece of the Class B, and it is the only piece of Class C.
The Centennial Shirt
Edit
The Centennial Shirt mimics the Paoli 1 T-Shirt but it IS NOT the same nor is it interchangeable as part of a proper uniform. The Centennial Shirt has the Commemorative 100th Insignia on the back in place of the Troop Coat-of-Arms. The Troop Logo on the front is also noticeably off. The border is a bright yellow rather than a subdued "Paoli 1 Gold". It is fine to wear this shirt at informal events or as part of Class C but not Class A or B.