POR Patches indicate the specific Position of Responsibility (POR) that a scout holds within the Troop. Most scouts (APL and above) have a POR and thus wear an accompanying patch. The patch is worn on the left sleeve below the Troop Logo as found here.
Patch Design
Edit
All OBS POR Patches follow a standard format (although Paoli 1 does not use only OBS patches). These patches are all large, circular patches with a tan border, tan/greenish field, and forest green lettering specifically stating the position along with an image or design. Several patches follow the older and simpler scouting style. These patches are small squares with an olive drab green border, brown field, and forest green designs.
Older Style
Edit
Assistant Patrol LeaderEdit
Assistant Patrol Leader is designated by a single horizontal green bar.  It is the very first official POR in the Cursus Honorum and thus the first POR patch that a scout will earn for his Class A Uniform.  The APL patch is accompanied by a yellow Lanyard.
Patrol Leader
Edit
Patrol Leader is designated by two horizonatal green bars in the same style as the APL patch.  The accompanying lanyard is white for this position and all those that follow it.
New Style
Edit
Senior Patrol Leader
Edit
Senior Patrol Leader is respresented by three horizontal bars, the next level in command from PL.  Paoli 1 uses the new style for all staff level PORs so this patch is the lighter tan rather than the darker green.  Over top of the bars is a silver fleur-de-lis and under-hanging banner.
Assistant Senior Patrol Leader
Edit
The Assistant Senior Patrol Leader is repesented with an identical patch to the SPL save for a golden fleur-de-lis rather than the silver of the SPL.
Quartermaster
Edit
The Quartermaster is represented by a golden backpack.
The Troop Scribe is represented by a golden quill.
Troop Guide
Edit
Troop Guide is represented by doulbe horizontal bars like PL, with a fleur-de-lis over top like the SPL and ASPL patches.  The fleur-de-lis for Troop Guide is red.
The representative for the Order of the Arrow wears a red arrowhead to indicate the Order.
Adult Patches
Edit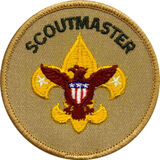 There are also POR Patches for the
Scoutmaster
,
Assistant Scoutmasters
,
Troop Committee Members
and also
Junior Assistant Scoutmasters
. All of these patches follow the new OBS style. They all have the BSA Fleur-de-lis and Eagle as their image and only vary with differing text stating the position.
Paoli 1 does not use the Bugler or Den Chief patches, having shoulder cords to represent those positions (and also making it possible to hold a POR in addition to those minor positions). The Troop traditionally has not had a historian, librarian, or chaplain's aide either although they are recognized by the BSA as PORs with their own patches.