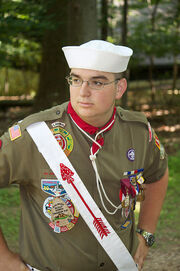 "Young" Michael is the son of Michael J. Magnotta III and the older brother of Matthew Magnotta. Michael joined the Troop in 2003 as a member of the Lion Patrol. One of his first events was the First Aid Meet of that same year in which Lion Patrol won first place under Patrol Leader Bill Kiniry. When called to the center of the gym to be recognized, Michael bumped into the large tom-tom set up for the preceding Native American ceremony and the drum completely fell apart. This earned him the temporary name of "Tom Tom".
That early nickname was soon replaced at Horseshoe where he was renamed "Harry Potter" due to his similarity to that character. A lightning bolt was even drawn on his forehead to complete the likeness. He kept the name for a few years until he eventually grew out of it (both the nickname and physically appearing like Harry).
Michael served as an active Third Man for the 2004-2005 year under Michael Kiniry and was APL of Lion for the 2005-2006 year. That year began with no official Patrol Leader for Lion so Michael served as defacto leader for a short period before Michael Kiniry came back to serve a second term. The next year, for 2006-2007, Michael finally became PL of Lion. He served two years on staff before becoming Senior Patrol Leader for the 2009-2010 year and the 99th Birthday.
Michael has completed the Triple Crown of BSA High Adventure Bases, attended Horseshoe every year since 2003, and has attended almost every single Summer Trip since 2004. Michael is also possibly the most decorated scout in Paoli 1 history, having received almost every single award at least once and having been awarded an unprecedented four Patrol Leader's Awards (one for every full year he served in Lion below the rank of Patrol Leader). Michael is still active in the Troop as a Man Scout and is an Ordeal member of the Order of the Arrow.
Paoli 1 Positions
Man Scout - 2010
Senior Patrol Leader - 2009-2010
Quartermaster - 2007-2008
Patrol Leader of Lion Patrol : 2006-2007