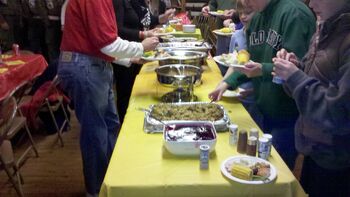 Every year, on the weekend of the November
Troop Meeting
(which generally falls on the Saturday before Thanksgiving), the
Lion Patrol
prepares a turkey dinner for the the patrol,
Lion Patrol Alumni
, the
Staff Patrol
, members of the
Troop Committee
, and other invited guests. This tradition was started in 2003, and since then, has become an annual tradition.
Visually, the process looks horrible. Every year, at least one new mom takes one look and declares that there is no way that turkey will be edible. Every year, we prove them wrong.
The turkey is cooked in a 1, 1/2 foot high fire pit, made of 3 rebar stakes stuck in the ground, connected to each other by sheets of aluminum foil that create the walls of this "outdoor oven." Charcoal lines the base of the pit, as well as the chicken wire tubes that are created around the rebar. The Lion Patrol assistant patrol leader is typically in charge of the entire operation.
The Lion Turkey Dinner is held about a half hour after the conclusion of the
Troop Meeting
. The turn out is usually good, and the turkey is always amazing. Families often bring their own dishes to compliment the bird, and a real meal ends up developing.