Dennis Dong is the father of Mark Dong and Matthew Dong, an Eagle Scout and Paoli 1 SPL. Dennis was very active in the early years when his oldest son first joined the Troop. He attended the West Point and Maine Summer Trip, both in 2006. He has always been very popular among the scouts thanks to his cheerful and enthusiastic personality. One of the most memorable experiences is of Dennis doing push-ups during the breaks while hiking up the 5268 foot peak of Mt. Katahdin. In addition to his incredible strength and stamina, he also has the ability to shout Paoli 1 and other cheers non-stop and loudly. Of course, any description of Dennis would be lacking without a mention of his famous "Thunder Calves".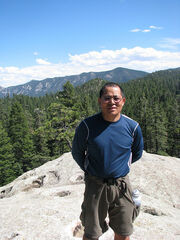 Unfortunately his activity decreased as his work and other responsibilities took up much of his time. Luckily his voice has never diminished and whenever he manages to find the time to attend events, he brings an extra exuberance for the Troop. Dennis was a member of the 2009 Philmont trek and returned to be the lead advisor of his crew at Philmont 2013.
Community content is available under
CC-BY-SA
unless otherwise noted.