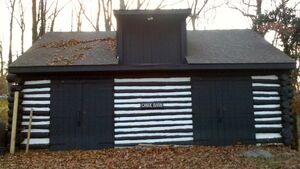 The first structure on the way up the driveway is the Canoe Barn, a two story building that houses Paoli 1's fleet of boats, support equipment, and canoe trailers. It is also home to the Cannon. Due to the incredibly steep staircase inside, boats are removed from the upper level by lowering them down through double doors overlooking the Canoe Barn parking lot.
Barn Layout
Edit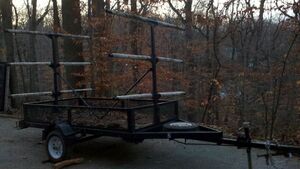 The lower floor of the Canoe Barn is split in two. Each side of the barn has a parking space in the center with six canoe racks along the sides. In total, the lower floor of the barn houses a dozen
Paoli 1
Aluminum Canoes, two
canoe trailers
, and the troop
cannon
.
In between these two areas is a very steep staircase heading to the upper floor. The upper floor houses the troop's fleet of kayaks. This includes both traditional closed kayaks as well as open 'ocean' kayaks known as Torrents. These boats are lifted/lowered through the large second floor doors from/to the parking lot below. In addition, there is a small room off of this kayak area where all paddles, PFDs, wetsuits, and other smaller equipment like throw bags are stored.