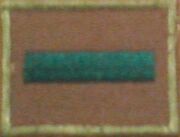 Assistant Patrol Leaders are the second in command of the five
patrols
and are an essential position to help the
Patrol Leader
in fulfilling his duties. Although there are always five patrol leaders in
the Troop
, there can be more than five APLs at a time within the Troop, but no Patrol Leader will have more than two APLs. To signify his
position of responsibility
, the Assistant Patrol Leader wears a
patch
with a singular green bar on his left shoulder and also wears a
yellow lanyard
as part of his
Uniform
.
Duties and Responsibilities
Edit
The Assistant Patrol Leader supports the Patrol Leader at all times. In the Patrol Leader's absence, he assumes temporary leadership of the patrol. The APL may also be called on to host patrol meetings if the Patrol Leader is absent and there is a need for a patrol meeting. He may also be asked to assist the Patrol Leader in scheduling events, cooking, and taking charge of the patrol when the Patrol Leader is elsewhere. The APL is also responsible for making a centerpiece for their patrol for the Family Dinner.
Eligibility and Term
Edit
A new Assistant Patrol Leader is assigned by the Scoutmaster at the conclusion of the Birthday. Usually the Assistant will be a scout from that same patrol, but this is not always the case. On average, Assistants are 8th graders (13-14 years old). The term of office is one full Troop Year; after which he may become a Patrol Leader or return to the Third Man. Even though there may be two assistants from the same patrol, both could attain the position of Patrol Leader the next year by one of them being assigned to a different patrol.